The N0AGI-1 APRS Digi/iGate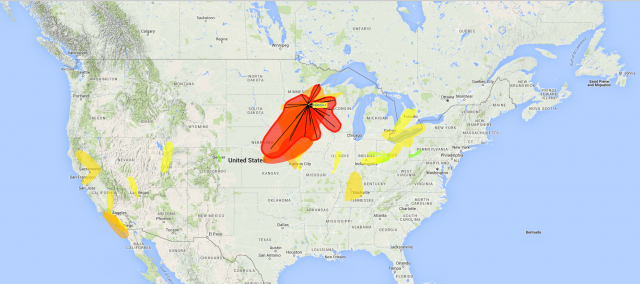 Earlier this week Wednesday, Jun 8th 2016, in partnership w/ The Honorable Hennepin County Sheriff's Office, KA0PHD – Sgt. Hall and KC0OUZ – Adam,  I moved my N0AGI-5 Digi/iGate over to the Medina site that also hosts my N0AGI-MED DMR Repeater System.  The new call sign for the APRS station is N0AGI-1.
The Medina site boasts a 450 feet tower and the VHF antenna that's being used for the N0AGI-1 station is at 380 feet. The following are a few screen shots and coverage map reports as of this am – June 11, 2016 7.00am CST.
About the Site:
With support and help from Sgt. Hall,  we secured the blessing from The Honorable Hennepin County Sherrif's Office to deploy the N0AGI-1  WIDE APRS Digi/iGate at the 1600 Prairie Dr. in Medina.  Site owned by Hennepin County and used in the ARMER system.  The site boasts a 450′ tower – the APRS antenna is located at the base of 380 feet.
APRS Equipment:
The "N0AGI – APRS-In-A-Box"

FT-2900 D
Microsat 3in1 WX2
YAESU 1200 Power Unit
enclosed in a two way air-circulatory Ax-Max electrical circuit heavy Duty PVC box

LMR-400 coax
Antenna at 380′ CELWAVE PD620.
---
Links:
---
Install Pictures:
---
Coverage Maps:
Jul 5 2016
Jun 13 2016
Jun 11 2016