Self-Contained s/iGate + Digi
Yesterday, I quickly put together a self-contained, self-sustaining, easily deployable i/sGate + Digipeater in-a-box.  I had all the parts I needed, so, most of the work was to designing and assembling the system and took me about a day (after bug fixes, etc).
The parts I used here include:
A used Ammo-Can (large enough to hold 2 7Ah SLA batteries, and the below parts)
Raspberry Pi 2,
TNC-Pi,
Baofeng UV-5R w/ charging cradle and battery (1800mAh)
Solar Panel + Solar Charge Controller
30A fuse box w/ fuse
a 30A rated switch (on/off)
cigarette lighter connector
cigarette lighter USB charger/adapter rated for 1.5A at a min
a few Anderson Pole connectors, and tools to make the wires
Wires/solder equipment
liquid electric tape  – exterior rated
Velcro tapes
grommet
tools of the trade
Hot glue / gun
A couple future additions/ideas:
air vent + fan (12v dc) for air circulation
weather related input devices
I have a YouTube video of the first phase and can be found here: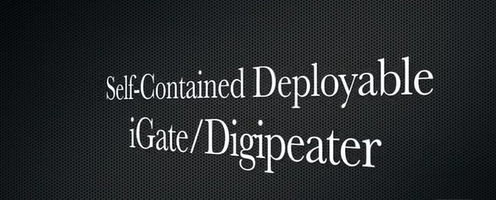 Since the video was made, I made a few mods to the setup to make it more efficient and zero noise and the below pictures are taken during and after the mods were made
Version 3: Rx Only w/ DireWolf 1.2 experiment
I made a few follow up modifications to the setup.
changed the iGate to use DireWolf software and thus removed TNC-Pi momentarily for experiment
changed the iGate to Rx Only
added a programmable voltage regulator at 5Amp rating
added the new usb WIFI dongle.
The below pictures are from these changes.
(since these experiments, I have finally landed on the following project for "field-ready" setup. The project can be found here)
Thanks
73, N0AGI
6 Responses to Self-Contained s/iGate + Digi