Smart & Brown – Tool Room Lathe Purchase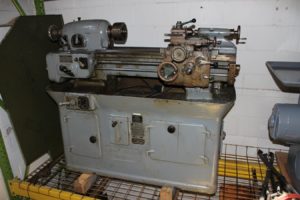 I had recently acquired a lathe from a local (Hugo, MN) machine-shop store by name "Inter-Plant-Sales".  I have been exploring for a good featured set metal lathe for quite some time and was glad to find something I really have been looking to get.
It's a "Smart & Brown – Model A MK-I" toolroom lathe – specs:
9″ x 20″ Lathe (9″ Swing, 20″ Between centers),
S# S8485,
5″ 3 Jaw chuck,
12 Spindle speeds from 39 to 1,430 rpm,
3/4″ Thru hole,
27 Threading ranges from 8 to 76,
Collet draw bar with collets,
3 way built in turret on carriage,
Jacobs drill chuck in tail stock,
Full length chip catch pan,
Motor spec – 2HP 220v 3Phase,
Overall Dim. 4′ 9″L x 2′ 6″W x 4′ 1″H, Est. Wt. 2,000 lbs.
it also came with few other cutting tools and a stock bore tool with dedicated stock post
Single press oiler (stock/factory spec)
came with a coolant dispenser hardware.
new flat-plane leather motor belt
The machine is a beauty, is in pristine condition (considering its age early 1950s), all of the functions seem to be in excellent working condition. I am very excited about this purchase, believe it will enable me to continue learning the art of machining (I hope).  It should arrive early next week in my newly cleared up 3rd car garage area which I am repurposing for my extended-workshop nowadays.
---
Update:
The machine has been delivered the other day – more details here
---
Pictures:
Here are a few seller provided pictures.  I should have more pictures and videos in the coming days/weeks – when time permits.
---
Video provided by the seller:
---
220v Single Phase to 220v 3 Phase – Variable Frequency Driver (VFD)
In order for me to run this lathe on my home 220v single phase outlet, I will need a VFD that can drive this lathe per spec adequately.  I had purchased a VFD by TECO Westinghouse model The TECO Westinghouse L510 – model (L510-202-H1-U) found here.
Specs of the VFD:
L510-202-H1-U
Input Voltage 200/240V, Single Ph. Only
Output 3 Phase Output
Housing/Enclosure IP20
Type of Drive General Purpose, Volts per Hertz (V/Hz), Sensorless Vector
Options No Special Options
Availability Standard Stock
Product Series L510 Series
Warranty 3 Years
Weight – lbs. 6.5000
Manufacturer Teco Westinghouse
Horsepower – 2 HP
Rated Input Current

200-240VAC, Single phase
50/60Hz
15.5 amps

Rated Output Current

200-240V, 3 phase
7.5 amps

Dimensions

Height:5.67 in
Width: 4.65 in
Depth: 5.80 in

Weight
Housing Options
A couple of pictures of the VFD: