DMR XPR-5550 in JEEP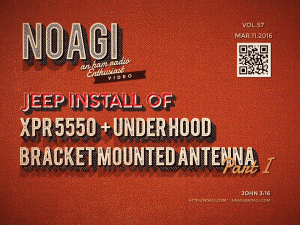 Today, I completed my Phase 1 install of the XPR-5550 and the under the hood lip bracket and the antenna.  This page details a few pictures and a YouTube video (two part series) that entails this install process.
Phase 1: Install Antenna, Bracket, Wiring, Coax and testing the XPR-5550
Phase 2: Install XPR-5550 on an overhead console (see below April 7th 2016)
---
April 7th 2016 : Installed Motorola XPR 5550 Installed:
I decided to not go w/ the full blown overhead console construction;  after pricing that project, it came in steep for me and will probably do it some other day.  For now, I have gone w/ a simple functional install of the 5550 on the overhead bracket install.  This sits right above the rear-view mirror and the bracket is well secured on the front roll-bar.  Following are some of these pictures.
---
Pictures:
---
YouTube Videos: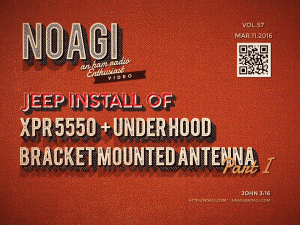 ---
Credits and Thanks:
Thanks to N0VZC – Mike Norrbom and N0BVE – Don Rice for taking a ride w/ me to the Radio City store up in Mounds View, MN.
Thanks to KD0YRF – Bill Breyer for his ideas of a glass mounted tunable antenna setup in his truck
Thanks to NK0M – Brandon Perrine for doing a signal test w/ me and the report.
---
73s
N0AGI