Jun 2016 Shack Redesign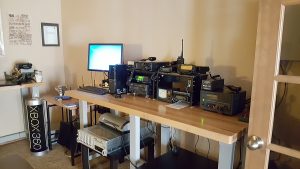 Over the last 4 months or so, and since my last shack redesign, my lab had gone thru some serious rounds of DMR repeater systems lab setup, testing, and site deployment efforts. The outcome has been 3 repeater systems install (more here).  The shack had gone from organized chaos to out-of-control chaos.
Thus the effort of re-designing my shack today Jun 26th 2016, Sunday.
Objectives:
downsize the vertical space (no more need for vertical room that was originally made for hosting repeaters)
line of sight
easily accessible
enable ease of workflow
use what's available
keep common grounding
reduce coax lengths to bare minimal
while we're at it, install HF ATAS-120 antenna on Tower for HF ops (lab testing)
---
Before:
---
During:
---
After:
---
Video: