3DOF – Motion Sim for Home Cinema POC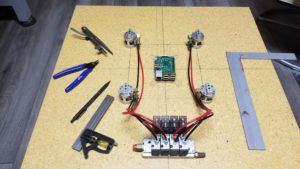 I am building a 3 Degree Of Freedom Motion Simulator platform for my home cinema room experience using Pneumatic Actuators, Raspberry Pi, Windows 10 Universal Platform, XBOX Controller and C# and Python programming languages.
This page attempts to journal that project from Inception to Completion.
POC 1
Proof Of Concept of the platform using Bimba Flat II puck style pneumatic actuator that have a max payload capacity of ~200 lb with 125PSI air pressure supply.  The POC is being built on a plywood platform.
A Few Pictures:
YouTube:
Sorry, there was a YouTube error.