Lifts, Shocks and Carrier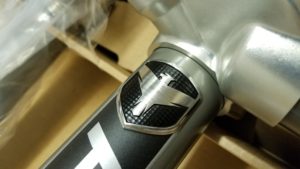 I have been researching a bit on putting some lifts on my 2015 Jeep Rubicon Hard Rock to provision some outlanding and mild off-roading capabilities.  When I had purchased my Jeep new from a local Jeep dealer, it came with:
Next Generation Dana 44 Heavy Duty Rear and Front Axles (w/ Dana 44 == 373 gear ratio).
"Tru-Lok (R) Differential Front and Rear Axels"
"Electronic Front Sway Bar Disconnects"
4:1 Rock-Trac AWD System
Rock Rails
Power Dome Hood
17″ x 7.5″ Polished Semi-Gloss Black Wheels and 32″ MTs
To really experience light to mid off-roading and outlanding, I think adding a 3″ lift and adjustable shocks will help add to the experience and would also add to the visual.  I was looking at 35″ MT tires to go w/ this idea.  I was thinking about adjustable shocks to allow for daily drive adjusts as well as for off-roading/outlanding.  Additionally, this setup should help me w/ the M1101 leveling and hauling – because currently, the trailer is not at leveled when hauling even w/ a pintle-hitch height extension
Following some research, pricing, etc., I decided to go with this product line:
As part of my research to determine which products would work best for me, I had a brief chat with my next door neighbor who has some hands-on off-roading experience,;  spoke w/ the pre-sales/technical Teraflex folks a couple of times – did some deep-dive conversation with them;  had a few more with the folks at Extreme Terrain have been super great about brainstorming w/ me and helping me decide which ones to get for my specific type of application and have also given me a good deal on these products – a much better deal than what Teraflex had on for sale.
While I was at this effort, I also needed to look at the rear spare tire carrier situation since the stock carrier is not going to work w/ the 35″ new setup.  Consequently, I had ordered this:
The products arrived in the UPS a couple of days late – and are now ready for the install date.  More to come here w/ a few pictures, videos, etc.
---
INSTALL:

I have been a loyal customer of Velishek Auto's here in Prior Lake, MN.  Not only is Velishek a family oriented business, they are true to their customers.  Their team is honest and I feel good about doing business w/ them.  Their service department has been really a great experience for me and my family for several years.   Randy and his entire team at Velishek has and continues to be a good team to work with.  John in their service department is a great guy to work with, very knowledgeable, customer focused and quality driven.  I care about these things when doing business with people – it's always people first and the relationship/friendship we build with each other.
I am super excited to have given my Jeep install business to Velishek's Randy and his team in John and team;  John and team have been looped in early on in the brainstorming process, even before I had ordered the parts.  I enjoy keeping the business within the city of Prior Lake, MN businesses and am excited to see the outcome of my Jeep project with Velishek.
POST INSTALL Notes:
Earlier tonight (Friday Jan 12 2018), the install was completed, thanks to Velishek.  The install went over my budgeted time and money and consequently, "I am a few fries short of a happy meal" over budget.  I am assured however, that the install quality is as expected and planned for. I am very happy w/ the how the Jeep turned out.  I will be driving my Jeep a few days and reflect back on the experience.
There are a couple of issues or pending actions I still need to address and take care of:

I need to get my wheels + steering wheel realigned, I will have to take my vehicle over to another shop to get that taken care of that and also reset the codes w/ my programmer.  Should not be an issue. I might hit up Zeus Offroad monday (MLK Day – holiday) and get that addressed.
My rear wheel carrier while fully accommodated the new tire with a wheel spacer (got it from Iron Rock Offroad place here in Shakopee, MN), the tire is still right up against the back accessory plate on the carrier.  Consequently, I am unable to mount my ROTOPAX on the carrier accessory plate as I was originally hoping to.  I have an extra spacer, which I might try to install and see if that leaves the extra room for me to get my ROTOPAX installed.  I suspect no, but, I will need to try.
the Jeep Rubicon 10th anniversary rear bumper's right hand tow-hook had to be removed to accommodate the SmittyBilt XRC Gen 2 carrier.  I am bummed about that since I was unaware of that limitation by the manufacturer.  I wish Smittybilt had made it clear in their product page.  They say, that the carrier works for the 10th anniversary steel bumper, but, not say at all that the customer should prepare for losing the right tow-hook.  Aaarghhhh…

not sure if there's a workaround to get it back on the jeep or what. I'll explore.

Another step to take care of  – Undercoating the Jeep with rust-proofing material.  This is scheduled for next week at "P and L Auto" in Edina, MN.
---
TeraFlex products from Extreme Terrain:
NOTE 1: Teraflex JK Front Brake Liner Anchor Kit (this was missing and Teraflex agreed to overnight it to me):
NOTE 2: Teraflex – FAILED Part #467265 – "JK Rear Upper Speed BumpStop Cup Extension "- in the lift kit parts list above (this broke during the install and Teraflex agreed to overnight it to me):
SmittyBilt Rear spare wheel Carrier:
SuperChips FlashCal:
---
Early Pictures from my end (more to come):
---
Install day Pictures (most latest first) (more to come):
---
Install Complete (more pictures to come):
---
Rear Shocks Skid Plates (Feb 2 2018):
---
YouTube:
From installs – coming soon:
---