Bridgeport M Head Mill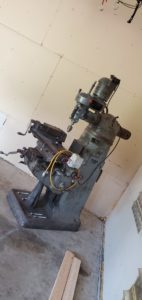 I have been looking for a used bridgeport mill for quite some time.  I was avidly exploring the J-Head form factor mills for at least a year – until I ran into this M-Head unit.  The seller was local and not too far from where I live.  Plus the guy was a good person and offered a good deal with a few tooling for added price.  More importantly, the seller was kind and generous enough to even do a personal delivery to my place for a nominal cost.
The mill is a WW-II era (S#2473), supposedly was deployed in one of the war-ships.  I feel humble and proud to have such an invaluable equipment to cherish and learn the art of machining from.
With that said, the mill definitely needs some TLC in several areas.  Most importantly, one of the historical owners had greased in the ways instead of using ways-oil (ugghhhh!!). I feel badly for the machine.  I plan to carve out some time during the course of a few available weekends to carefully dismantle the mill, clean up all the grease and do a part-restoration work.  I can tell that it will be a big task in my hands.  But, I cannot rush, but will take it slow and carefully.
Here are a few pictures it placed in my 3rd car garage that is now cleared up and being used as my extended workshop. You will find a few pictures of some added tooling I had purchasede from the seller too.
Additionally, it came with a TECO VFD to run off of my 110v single phase to convert to 220v 3 phase.
---
Pictures – 1: 
---
Mill – Relocated: