N0AGI-5 on Chaska Water Tower
The Chaska N0AGI-5 APRS Digi/iGate station has been decommissioned: 
After test running/bedding the Chaska deployment for about 3 weeks+, we analyzed the results and found that the propagation and range has not been that pronounced as I was originally expecting.  While the "heard range" has reached Duluth up-North and Mankato down-south, Eau Clarie in Eastward and Winthrop westward into SD, the consistency has not been very much appreciative.
The current new N0AGI-5 APRS Digi/iGate site is Minnetonka, N0BVE's QTH Tower. The new site detail page can be found here:
---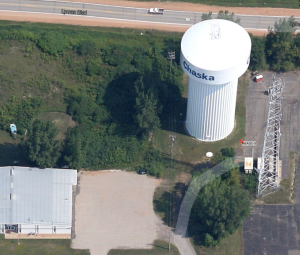 For a couple of months now, N0BVE (Don Rice) and I have been noodling over the idea of deploying an terrestrial 144.390MHz APRS digi/iGate at the Chaska Water Tower Site.  The site currently hosts the Chaska Water Tower and then a separate standalone antenna tower. Over the last couple of weeks, Don and I have been coordinating resources and schedules to come together and get this station up on the tower and operational.
As of this afternoon, with partnership between N0BVE and I, the N0AGI-5 is operational from the Chaska Water Tower location.  Both N0BVE and I will be monitoring the operation status of this station and will surely be making tweaks along the way to make it better as we plough through.
During this station performance monitoring phase, I plan to run a digipeater op at the QTH under the N0AGI-2 callsign to address the South-South-East and South South West of the Prior Lake Twin-cities area.
Thanks to N0BVE for his support and partnership, and making available the site for this deployment.
---
Site Equipment for N0AGI-5 APRS digi/iGate:
the Turnkey deployable APRS iGate/Digi was further fleshed out w/ the iGate/Digi equipment and was deployed
N0BVE / Chaska Water Tower site offers highspeed internet close to 100MBPS speeds upload (perfect for iGating operations)
The Site Tower stands up at 150 feet above the ground level elevation of 950 feet
I will be posting more pictures and videos as we move further.
---
The Day Of Installation and Deployment pictures .