XPR 5550 + BT Pod for Jeep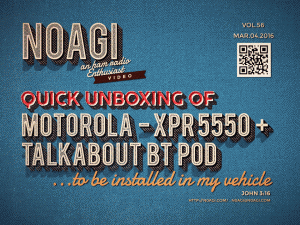 I'm in the process of putting a DMR Radio in my Jeep as my mobile DMR rig. As some you know, I currently have a Yaesu FTM-400DR for general 2M/70cm band and APRS + Packet operations – great radio and works really well.  Given my more recent passion for DMR, I believe it is only fitting to get ready to install a Motorola XPR 5550 in the Jeep. An add-on Bluetooth – Talkabout Pod for Bluetooth capabilities.
This page has a few early ideas of this install, a high level unboxing,  milestones mostly documented for self and sharing. More will follow as I get closer to the install as we closer to this spring time.
The initial plan is to install this as an overhead console unit. More to come there.
---
Pictures:
Mar 04 2016 (First looks):
---
YouTube Videos (soon to come):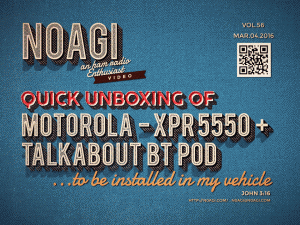 ---