DV4Mini – Discovery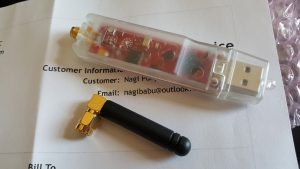 Off late, I have been doing a lot of work on DMR through the MN-DMR initiative here in the State Of Minnesota.  DV4Mni falls very nicely in that subject as a matter of fact, especially w/ its ability to connect w/ DMR Talk Groups over internet.  I am not much of an internet-only QSO mode guy – but, there are specific use cases that can take advantage of DV4Mini capabilities.  My particular use case is to do w/  few planned road-trips and family vacations to locations where DMR is not as prevalent in Minnesota :).  Actually, we are visiting places where there's absolutely zero DMR presence.
The goal is to able to connect to DMR using DV4Mini as hotspot that is in turn connected to internet.  The HT or mobile rig are able to connect to the DV4Mini hotspot over RF (very close range) and then be able to communicate to TGs.  Pretty slick really.
One of my good friends, N0VZC – Mike, convinced me that if I did not have a DV4Mini, I might simply pack up my DMR passion and leave :).  Well, not exactly.  But, he did convince me to get my hands on a DV4Mini and experiment w/ it.  So, w/o further ado, but, after much debating, I went ahead and ordered a UHF version from Wireless Holdings Inc. and got mine in the mail today.
A couple of first steps for me:
Manufacturer's Download Site for manuals and software here

PLEASE READ the "Getting Started" section below.
Next Steps:
PLEASE SEE further below progress made since I wrote this first post.

(previous post)

I will install the Windows version of their software and get it configured so that I can get the dongle connected to a few TGs including "MN Statewide"
Configure my Motorola XPR 7550, XPR 5550 (and may be my XPR 4550) are configure w/ a Zone that's configured and pointing to the DV4Mini.  This will need the DV4Mini's frequency at it which operates.
Pictures:
---
Getting Started:
The biggest issue I have had and in general many others have had is to get the "correct" firmware on the dongle.  The manufacturer's website is not all that fleshed out w/ firmware, software, details.  I am running my DV4Mini on my Windows 10 laptop and I had to run a few iterations to get the stuff just right.  So, the following is what I had done to make stuff work on my end.  This is as of 5/20/2016.
First things first:
You will need the following pieces of software components: (For convenience, I have package these up in this one single ZIP file.  Please note, this is not a replacement to manufacturer's channel to distribute these files.  I have put these in my blog for my own reference and future installation purposes.  If you choose to use the zip file, please note that you will do so at your own risk.  I don't provide support to any of these. The zip file is here for convenience purposes for my own self).
The following pieces of software will NEED to be installed in the order they appear below: 

Step – 1 – Install Visual C++ Runtime Setup
Step – 2 – Install DV4MINI main software Setup.  This installs, the DV4MINI and the DV_SERIAL software components

After, Step #2, Open Device Manager, and scroll down to "COM PORTS" section
Insert the DV4Mini dongle into your PC.  Wait till Windows identifies the device and you see a new COM PORT in the Device Manager
If Windows does not automatically, use the "Drivers" folder in the zip file and point your Device Manager to use the drivers in the "Drivers" folder.

Step – 3 – Update the dongle w/ the Firmware from the zip file.  Use the "FW Update" tab to update the firmware
Step – 4 – Copy the DV4MF2 software from the zip file into the same folder as the DV4Mini Program Files folder

DV4MF2 allows you to connect up to Brandmeister reflectors

ZIP FILE HERE: N0AGI-W10-DV4Mini-5-20-2016
Screen Shots for Reference (Video to come shortly):
---
I hope this works for you also.
73, N0AGI