FTM-400DR Programming S/W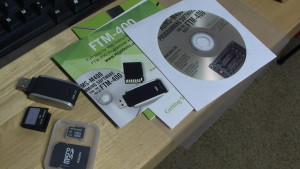 RT Systems has been very prompt and religious about announcing support of their Radio programming software for a while now.  I have been their customer for sometime now and would rate their software highly.  While these are very good tools to have handy to quickly program your TRx and be up and running, they are surely NO substitute to  knowing "how to manually program your radio".  In fact, every radio owner MUST "get to know" his/her radio really well so much so that they feel comfortable programming it by hand.  I try to follow this notion to the best I am able to.  It's a skill that when learned, will go a long way in case of emergency and preparedness situations.
The RT Systems software does help when you're trying to replicate one or more radios using a single setup image.  And, also helps when you're looking for a way to "backup" and "restore" settings to save time.
I had just got my shipment of the RT Systems programming software for my FTM-400DR.  The following are a few pictures of what was in the box.  This is a unique product in that, the programming is done on an SD card which then gets inserted into the FTM-400DR radio. so, it is different from the traditional cable based programming model that we all are used to w/ many other radios we own.
73s, Thanks
N0AGI
---
Pictures of what's in the box:
---