DMR Repeater in Buck Hill-Burnsville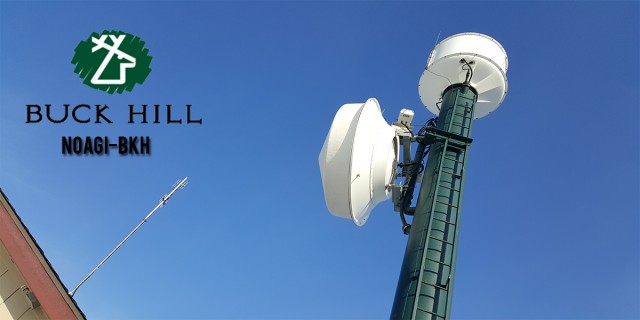 It is with humble thanks and gratitude that I share that my 2nd N0AGI DMR Repeater (N0AGI-BKH) is now live on the air on top of the Buck Hill-Burnsville Site.
Today March 6th 2016, Sunday's deployment of the N0AGI Buck Hill-Burnsville DMR Repeater marks a key milestone not only to me as an individual, but, more so for the MN-DMR community at large as we reach the 5th DMR Repeater in the state;  And, moreover, it speaks to how a group of similar-passion-minded individuals come as a singleton group and together accomplish such a landmark event in the DMR history in the state of Minnesota.
Today's deployment took a lot of hauling, dragging stuff around on slushy ice, climbing up and down stair-less slopes, lugging around over make-shift zip lines, and more.  At the end of the day, we look back and share the fun and passion of putting her up on the air.
Over the last few weeks, I have been working closely w/ a good friend of mine and the owner of Buck Hill – to explore and secure his blessing, support and sponsorship of access to his pristine site – the Summit at Buck Hill.  I am very blessed to have a good friend in McClure. And I hope that this DMR site will help grow the DMR community, joy of DMR, and surely communications and emergency preparedness in an around the state.
Credits and Thanks
As they say, No Milestone is traveled alone, no achievement is built alone and no story is said solo; This milestone also took a village and this could not have come to fruition w/o the friendship, support, partnership, a shared-passion and the coming together with these key friends:
N0BVE – Don Rice.

Don has been instrumental in every key ham project I ran.  All the way back starting w/ my first antenna on my roof top when I got my Technician license. Time has moved since in the ham world.  He is the brains behind the antenna design (and more) today at the Buck Hill. Don was also instrumental in the Faribault deployment.  Thanks Don

N0PQK – John Rowan.

John provided me the sponsorship access to my first repeater site – Faribault, MN. He continues to be my sounding board in the Buck Hill project; for me to brainstorm ideas. Thanks John.

KD0YRF  – William Breyer.

Bill inspires to build, restore and renovate technology – in my mind him and Adam are gear-heads like me. Ask Bill about his drone, his vintage automobiles and Electric Van that drives in reverse – he has a "YouTube worthy" story :). Bill has been instrumental in today's deployment at the Buck Hill w/ several impromptu out-of-the-box ideas to making things work.  Thanks Bill for the heavy lifting.

KC0OUZ  – Adam Bjorklund.

Adam, has been instrumental both in the Buck Hill deployment as well as in the Faribault deployment.  Adam, KNOWS what's in the Motorola guts – both from ham radio standpoint., but, also from a commercial (happens to be his day job) standpoint w/ some serious high end Motorola gear. Thanks Adam for being a supporter for both Faribault and Buck Hill.  Adam, Thank you also for taking the time for this project today, amidst your work day schedule.

KE0NA – Dave Ventura

When I had approached Dave about Propagation Analytics for what might something on top of a Buck Hill would like, he had an answer backed w/ his analysis of the "situation".  You will below here a projected propagation snapshot from his report he had shared w/ me.  He has been a key supporter and author of several revisions of "Beta CodePlugs" for testing the Buck Hill site. While I could not have him w/ us during the install today (due to limit on number of people allowed at the site), he was given the needed background/heads up, etc since the inception of this site idea.  Here's another history tip – Dave was one of the VEs that tested me on my Technician test;  He was also my "Elmer" when I was first starting up w/ my ham radio hobby. Thanks Dave
I look forward to working w/ these gentlemen yet again in future projects – and I cannot wait till that next exciting milestone. 
I would like to take this opportunity to also thank these key individuals who have provided help, commentary and feedback to this team in preparation toward the Buck Hill deployment and several ad-hoc testing; NQ0G – Chris Wolfe, KA0JWC – Scott Blixt, N0VZC – Mike Norrbom, KB0SVW – Terry Thurn, KC0DGY – Kent Peterson,  NK0M – Brandon Perrine, KC0BBK – Galen Erickson, KA0KMJ – John Czech, W0DJK – Don Klier, KC0CAP – Dan Gelle, KC0VUZ – Tom Zappa, et al;
Thanks to K1DMR – Ken Bryant for providing good deals for hams on Motorola DMR gear. All of my DMR gear was purchased from Ken. I don't have any personal or business interest in Ken's business.  Sharing this here so fellow hams might also benefit from good price bracket he offers on Moto gear.
Gentlemen, it's a blessing to have your friendship and partnership. 
---
The Buck Hill DMR Repeater setup is configured as follows:
Motorola MoToTRBO SLR5700 50W continuous duty repeater.  This is my 2nd SLR5700 – the first one lives in the Faribault site. That site is detailed here
The Duplexer is a Sinclar, 6 cavity, 100DB isolation and rated at 350W capacity. Sitting in a heavy duty cabinet.  She weights 80lbs (uhhhh)

However, due to space constraints, I have removed the cans from cabinet.  More on that here

Antenna details are here
Frequency of Operation : 443.125+
DMR Network Config:
Repeater ID: 312708
Repeater Callsign: N0AGI
Repeater City: Buck Hill-Burnsville
Repeater State: Minnesota
Repeater Country: United States
Repeater Frequency: 443.12500
Repeater ColorCode: 1
Repeater Zone: 5
Repeater Offset: +5.000
Repeater M/P: Peer
Repeater Time Slots: TS1 TS2
Repeater Trustee: N0AGI
Repeater Network: MNDMR (previously on K4USD)
---
Projected Coverage Heat Map: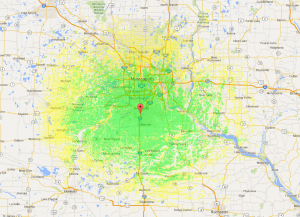 The projected coverage map was built using RadioMobil software targeted to articulate the coverage for Handi-Talkies at 5W. Post deployment of the site, this projected map was compared to real-time coverage using "drive thru" on-field exercise;   So far, the projected coverage map and the reality match accurately.
It should be duly noted that at the time of deployment of this site, the terrain was void of typical foliage we see during the Spring and Summer time. With that footnote, during the event of spring and summer foliage, I expect to see some coverage changes.
We will be monitoring as the season moves along.
---
A few pictures from Buck-Hill Install/Deployment Day – Mar 6th 2016:  (a few pictures here are courtesy KD0YRF – Bill Breyer, N0BVE – Don Rice). 
---
Some early projected coverage/propagation analysis (courtesy KE0NA):
These projections include the Chaska area when I was exploring that as a potential site – side-by-side Buck Hill.
---
A few pictures of the 2nd repeater and the duplexer are below:
---
YouTube Videos:
Buck Hill Deployment Video – to come soon
---
More than HAM Radio and DMR, this is a journey of making good friends, meeting good people, and together, building and helping the communities we represent.
God Bless
73s N0AGI