"Shack-To-Go" – STG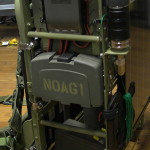 Project is now complete and is up and running. Below here you will find a chronological index of pictures and YouTube videos of this project build out.
73, N0AGI
---
Some Background:
So, a few months ago, I had started a project called, "Shack-To-Go" (commonly known as 'Pedestrian Radio').  Although, that project did not go anywhere as I got pulled into many other weekend projects and house-hold responsibilities.
So, today, I thought, it's about time to re-energize this project and get this taken to the finish line; one step at a time.
On that note, I am also starting a series of YouTube videos that attempt to show and tell the steps I plan to undertake to take this project from inception to completion.
Below are links to my YouTube playlist pertaining to this project and a few progressive pictures of the project for reference.
Thanks for joining me in this project build out journey . I enjoyed building it and learned a lot of new things in this ever growing hobby.
73, N0AGI
PROJECT BUILD OUT PICTURES :: RECENT PICTURES FIRST
2 Responses to "Shack-To-Go" – STG